What is trail mix? Trail mix, or GORP, is the ultimate trail snack, popularized by endless variations. While 'GORP' is fairly specific – Good Old Raisins and Peanuts – the term 'trail mix' simply means a combination of ingredients that travels well, won't melt quickly in a pack or pocket, provides sustained energy, and is bite-sized for eating while moving.
Here are a few things to consider when choosing trail mix for your next adventure:
Ingredients
Most classic recipes include a mix of dried fruit, nuts, and seeds, but there are as many varieties as there are hikers on the trail. Mixes can be both savory, made with a majority of salty ingredients, or sweet with the classic addition of chocolate. A very basic rule of thumb is to add equal parts of nuts, seeds, and dried fruit, and then ½ part of any extra element like chocolate chips.
Health Benefits
As with anything else, trail mix is as healthy as you make it. The original intent of trail mix was to provide much-needed calories and fats for quick intake while in motion.
Seeds, legumes, and nuts provide the good kind of fats (monounsaturated and polyunsaturated), which can help support your heart.
Vitamins and minerals can strengthen your immune system and keep your body working at full capacity. A portion size of nuts can provide almost all of your daily portion of Vitamin E, omega-3 fatty acids, while dried fruits can provide a significant portion of your daily iron and potassium needs. Mixes of nuts and fruits also work together to help your body absorb nutrients, so don't be afraid to try different combinations like hazelnuts and dried apricots, or Brazil nuts and dried pineapple.
Dried fruits like raisins, pineapple, or apricots can be rapidly metabolized by the body and quickly turned are turned into energy.
Pretzels, sesame sticks, or other salty bites are great additions as they can help replenish the sodium that is lost through sweating on a hot trail or during a toasty run. These salty snacks are not necessarily the most nutrient-rich but they can help to spread out the calories that come with solid fruit and nut varieties of mixes. Additions like pretzels or sesame sticks supply carbohydrates as well which supply your muscles with a slow but steady supply energy over the long haul.
Cautionary Tidbits
Too much of a good thing – As with any tasty snack, tossing back too much mix can work against you. Dried fruit packs a nutritional punch but it is high in fiber, which can lead to stomach issues for some. Consuming too many salty items like nuts could lead to dehydration, so use caution.
Portion size – Many containers of mix that you can buy at your local gas station may look like a single serving. However, that little baggie can contain more than 3 actual servings, containing over 600 calories. If you are making your own mix or partaking out of a bulk container, it's always best to portion out a small handful so you are not absent-mindedly consuming excess calories.
Conveniently packaged or homemade?
Do you prefer to let the experts do the mixing and measuring? Packaged trail mix comes in many varieties. You're sure to find one you like!
Want to try your hand at making your own mix? Here are two recipes for some fancy mix to share with your trail buddies . . .
Brooke's recipe for Tropical Mix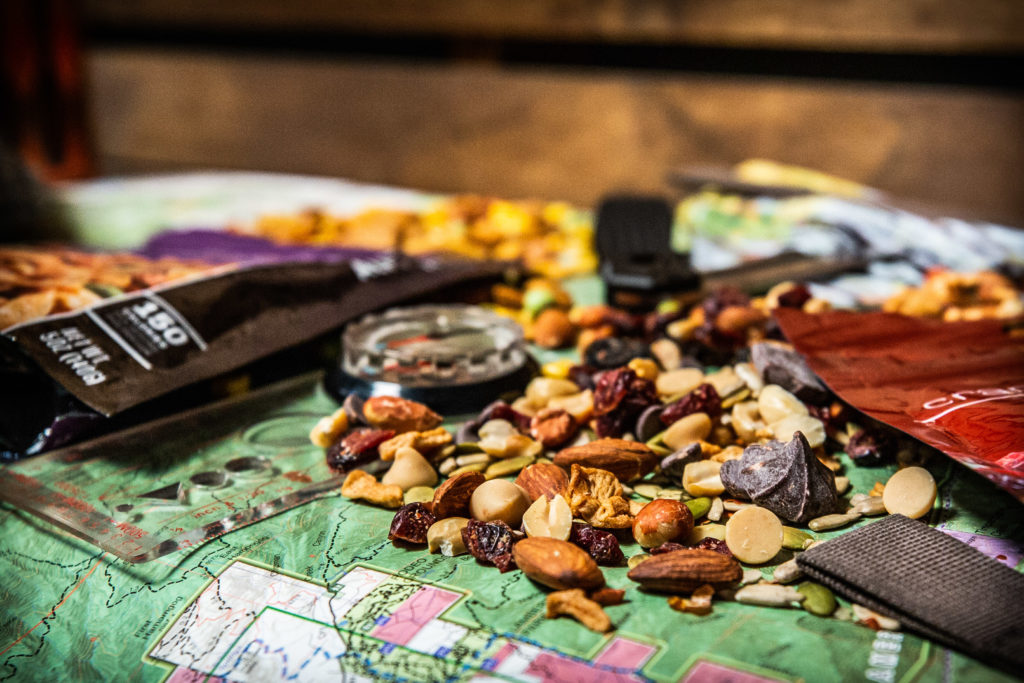 Cashews
Brazil nuts
Dried mango
Coconut flakes
Banana chips
White chocolate chips
Brooke's recipe for Spicy Savory Seed Mix
Pumpkin seed (Pepitas)
Shelled sunflower seeds
Almonds
Puffed rice
Pretzel pieces
Dashes of chili powder, garlic powder, onion powder, and salt
The Takeaway
What is trail mix? Simply put, it's a time-honored snack that supplies energy while hiking, running or roaming in the backcountry or gives an extra energy boost to power your race through a train station. Whether you're making it on your own, following a recipe from the trusty website, or purchasing at your local grocery store, be sure to keep an eye on the serving size. Keep an open mind and don't be afraid to try a new combination!